Angels Flight
---
Lovingly Hand Crafted Feather Body Accessories
---
BABY WINGS

17" wide, 12.5" high, 6 lbs weight

Turkey feathers on wire frame with hand placed feathers simulating the gentle arc of real wings.

$60.00 plus shipping/handling of $20 = $80.00

SMALL WINGS

21"wide, 17"high, 1 lb. weight white turkey w/metal support structure to show off the arc.

$110.00 plus s/h of $22.00 = $ 132.00
---
MEDIUM WINGS

17"wide, 23" high, 1.4 lbs weight

$190.00 + s/h $24.00 = $214

'SPECIAL' MEDIUM WINGS at $80

+ $24.00 s/h=$104. [new - w/out metal struts] . 17"wide, 23" high, 1.4 lbs weight

LARGE WINGS 32"wide by 31.5 high 1.4lbs

$250.00 + $24.00 s/h = $274.00

call 1-888-642-7542 to order or

fax to 213-637-0417
---
All the wings except 'SPECIAL' WINGS are constructed with buckram, plastic and a wire frame which gives them their strength and memory to retain their original shape.
Stretch elastic with hooks fastened to the wings and go under your arms where they float gently between the shoulder blades the 'SPECIAL WINGS' use lace ties instead.
All feathers come from domestically raised turkeys, chickens and geese. These birds are raised for human food. All wings come with extra feathers should you damage them in flight. We know that angels come in all shapes, sizes and colors, limited only by one's imagination. So let us know your need big or small and we'll work our magic to turn them into a winged reality!. Custom orders are welcomed.
REGARDING CUSTOM ORDERS
Add $40.00 charge per pair for custom coloring of wings in RED, HOT PINK, LIGHT PINK, PURPLE, ROYAL BLUE, OR LAVENDER
ANGELS FLIGHT
BEVERLY HILLS, CA. 90213
1-888-642-7542
FAX 213-637-0160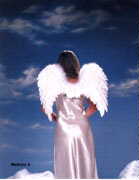 ---
---
---